Wuhan – a new city
When we look out of the plane, one thing becomes clear: this city has nothing to do with the stereotypes we have in mind when we think of the Chinese megacities. You don't fly through a hard transparent veil of smog. On the contrary: When you have a clear view, you glide over huge wind farms. Here you can't even imagine that you're already at the gates of a metroprole with 10 million inhabitants. The airport
Wuhan-Tianhe
– the largest airport in central China – has been expanded in the last two years to include two state-of-the-art terminals.
Electric scooters dominate the streets. Last year, a ban was imposed on scooters with internal combustion engines in order to improve air quality significantly. About 60% of the 10 million inhabitants now travel on low-noise electric two-wheeled vehicles. This shows a lot about the way in which environmental problems are tackled here.
Orders in restaurants are being carried out to an ever increasing extent via the smartphone: A QR code is used to scan the card, pay cashlessly with the credit card and after a few minutes you are served your food or drinks.
It gives you the feeling that this city is already a few years into the future. So it's not surprising that we came here to talk about the presentation and marketing of our technologies in the Chinese market.
In this article we would like to tell you why we want to be present in China right from the start, why copy protection has many faces and how one of the most reonomized state-owned companies in China became our partner..
A Chinese delegation on the Biofabrik Campus
When in spring 2016, organized by the German Chamber of Foreign Trade, a wildly confused Chinese delegation visited us in our development center near Dresden, we did not yet know what to expect. The contact to real mainland Chinese was too rare so far, the share of hearsay, legends and clichés too big.
However, this changed immediately during the dinner together in traditional Chinese form. The technology presented, the main reason for visiting the Chinese, who at that time still bought most of the German plastic waste, had contributed its part to the enthusiastic Chinese chatter, but the actual one was soon to show its ugly face – rice wine…
With more than 40 percent alcohol no longer really wine, he has since that day accompanied our nightmares and trips to China with devastating consequence. A escape not possible, he belongs to every business dinner and even lunch. So much so that the Chinese government has now banned the tax deductibility of bottles costing several hundred to even a thousand euros..
Anyway, our new friends, that much was already clear at that time, quickly and impressively disproved the image of the fast drunken Asian. What then came, we could not even guess at this time.
Among the participants was Mr. Zheng, Director of the Institute of New Energy Wuhan (INEW).
The delegation was accompanied by Henry Lee, a Chinese student at TU Dresden. He subsequently maintained contact between the INEW and the BIOFABRIK, but also had close contacts to Chinese entrepreneurial families in Hong Kong. After introducing and explaining our technology to them, they were very interested in bringing the technology to the Chinese market. To coordinate the details, they invited our CEO, Oliver Riedel, to Hong Kong.
Chinese hospitality
Sometimes it takes a little longer than with us until words are followed by deeds. But when the time comes, it is consistently executed – see electric scooters. We noticed this not only when the phone rang almost two years later and our CEO was invited to Hong Kong.
There, so the concise content, one should "get to know each other". Until then, extensive documents had been exchanged, quotations sent and technical questions between engineers answered – but always with latency periods of several weeks, so that it was by no means clear to us when, how and whether it should start at all.
Now, Hong Kong. All right. Doesn't hurt. Cool city, warmer than Germany in March, everybody in a good mood, let's have a look.
You've heard a bit about Chinese hospitality. But a waiting chauffeur with a Tesla Model X, his own assistant, the suite in the hotel or the impossibility to pay only a bag of fried locusts at the roadside was a bit different than expected. But we don't want to moan.
So that's how China goes when you play with the big boys. Namely our partners in Hong Kong.
So in March 2018 Olli was still flying Hong Kong. Afterwards he described with the sentence "I wasn't even allowed to buy cigarettes",

everything that can be said about Chinese hospitality: hotel, car, driver, assistant, food – everything was perfectly organized and so it was possible to concentrate on the quite complex task of setting up a German-Chinese enterprise. In order to keep the sale of our technologies and the handling of payments as uncomplicated as possible, we founded a company in Hong Kong, which buys the equipment from Germany and sells it to China via INEW.
Visit to Wuhan
After the contracts had been concluded, the group went on to Wuhan in the central Chinese province of Hubei.
At that time, WASTX Oil was already marketable and able to recycle old diesel and contaminated heating oil. This technology also met with great interest. In a conversation with Mr. Zheng, a far-reaching cooperation was agreed upon. The INEW is responsible for the presentation and demonstration of our systems to customers. In addition, it ensures the support of the plants in China and supports us in specific developments of the technologies for the Chinese market.
Institute of New Energy Wuhan (INEW)
The building of the INEW
Wuhan is located in Hubei province, which has about 60 million inhabitants. The metropolitan region of Wuhan itself has about 10 million inhabitants. The Chinese government wants to establish Wuhan as a technology center. New technologies are to be developed here or innovations from abroad are to be distributed from here.
A central location for this path is the INEW, whose futuristic building already underlines the progressive claim from the outside. Five wings surround the central office building. Companies such as HUAWEI and NIO maintain offices here and use the INEW to present their innovations.
Commissioning of WASTX Oil in November 2018
After all contracts had been signed and the INEW had confirmed the purchase of a WASTX Oil, it was manufactured and was to be transported to Wuhan in a freight plane at the end of October. Since this system is mainly intended for customer presentation, it was important for us to design the system the way the customer gets it: high-tech in a visually impressive garment and operable for every layman. The outer shell was specially made and was to arrive in Wuhan just a few days later – in time for commissioning.
In fact, the aircraft in question was chartered at short notice by a major customer and the hull already loaded was unloaded again. The next free flight did not leave until seven days later and reached the INEW so a few hours before the ceremonial commissioning that the respected entrepreneur, high-ranking politicians and the Chinese state television attended. The plant was finally suitably dressed and shone in all its splendour under the considerable adrenaline rush.
Impressions
Here you can find some visual impressions of the construction of the WASTX Oil at INEW. Of course the delayed hull wasn't the only hurdle. We could tell more about torn out intermediate ceilings (the plant is about 3.50 m high), boat loops in the steering and many other small things. But now we are just happy that everything went well in the end.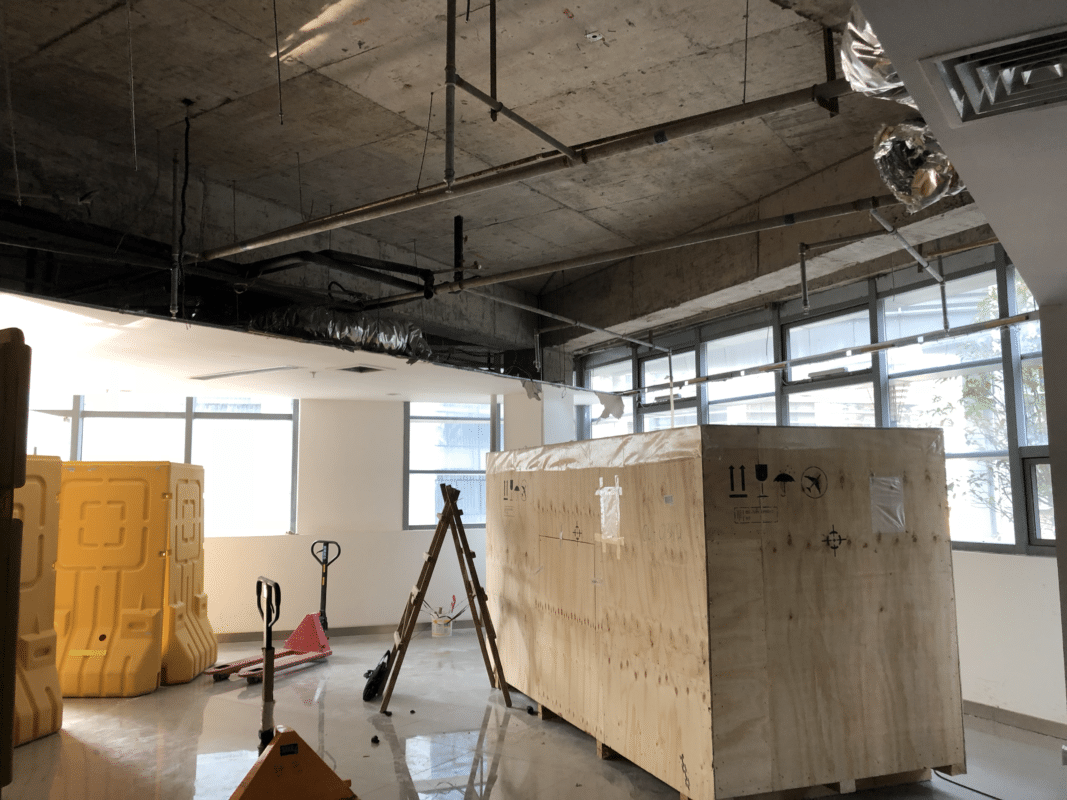 The Chinese State Television reports about us.
Interview with Oliver Riedel