On October 09th we finally held her in our hands:
Granting of a licence for the manufacture of energy products under suspension of excise duty
, short: permission to switch on our first WASTX Oil in Hoyerswerda.
For over a month now, it has been running fully automatically in 24/7 operation and converts contaminated heating oil and diesel into new DIN diesel according to DIN EN 590. The first plant will remain our smallest: It processes about 5,000 litres of mineral oil waste per week.
Waste oil – is that a problem?
Every year around 25 million tons of waste oil are produced worldwide. One drop is enough to make about 1,000 litres of water undrinkable. About the
The building of the INEW
we already wrote in our last blog.
But let us not now look at the countries of the world, which have great difficulties in coping with the problem because of a lack of waste disposal infrastructure. We are not now talking about waste oil in landfills or – worse still – directly in soil or water. We don't want to point the finger at others.
According to current figures from the Federal Association of Secondary Raw Materials and Disposal (BVSE), 467,000 tonnes of waste oils are collected in Germany and anadditional 129,000 tonnes of waste oils are imported. This means that the German waste oil volume amounts to almost 600,000 tons.
In Germany, the Waste Oil Ordinance of 01 May 2002 regulates the disposal of waste oil. Fortunately, it usually does not get into nature in Germany. Nevertheless, waste oils also leave a deep ecological footprint in this country:
About 15% of the waste oils produced are not recycled, but simply burned in a way that is harmful to the climate. More decisive for the ecological footprint, however, are the mostly long transport distances that the waste oil covers: From the point of origin to the central large refinery and via the conditioner back to the point of consumption, this adds up to distances of well over 1000 km.
This means that transporting just one tonne of waste oil generates around 20 kg of CO
2
–
800 kg of climate-damaging carbon dioxide per tanker truck
.
The WASTX Oil – Decentralized Recycling of Mineral Oil Waste
October 9th was so decisive for us because it was the starting signal for a revolution in the recycling of mineral oil waste. Our first plant already illustrates our mission: processing waste where it is produced and direct consumption on site.
The Hoyerswerda site is supplied with heating oil and diesel waste from Lusatia, some 70 kilometres away. With the Din-Diesel produced with the WASTX Oil we supply the neighbouring forwarding agency
Bresan
. We don't want to make a fuss here: On the 70 km delivery we have to calculate 20 meters delivery. All in all, we reduce the distance from the point of origin to the filling up of the trucks by about 93%.
This enables us to reduce the CO
2 emissions caused by transport.
from 20 kg to about 500 g per tonne. The 800 kg produced by a tanker truck on its way to a central refinery is turned into 21 kg of carbon dioxide.
A Brief History of the Economy of Ecology
Since 2011, we have been working to deliver solutions to some of the biggest societal challenges of the 21st century. From the outset, it was clear to us that ecological change can only work if it does not incur any costs, or rather: if it also brings monetary benefits for all parties.
This example will show you how this is possible with WASTX Oil:
Our supplier saves himself long journeys and thus transport costs. The forwarding agency Bresan buys our diesel clearly under the daily current gas station price. At around 20,000 litres per month and a sharp rise in the price of diesel at petrol stations, this results in an average four-digit saving per month. So every party has an economic advantage if it does the ecologically right thing.
And what do we do?
Simply develop a revolutionary technology: Test it. Failure. Testing. Failure. Testing. Cheer. Apply for approval. Ten months wait. Turn it on.
It was easy up to here. But we did not start to make 21 kg of carbon dioxide out of 800 kg and then watch the fuel we produced being burned. Sometimes the name
Biofabrik is
a real burden
…
Climate-neutral fuel through reforestation
One hectare of forest area stores about 13 tons of
CO2
per year.
. In order to neutralize the fuel of our first plant, we plant 48 hectares of forest from the proceeds of productsales. This area is capable of absorbing the carbon dioxide produced by the combustion of our diesel every year. Of course, we do not only do this for the first system, but also for
any
future WASTX Oil.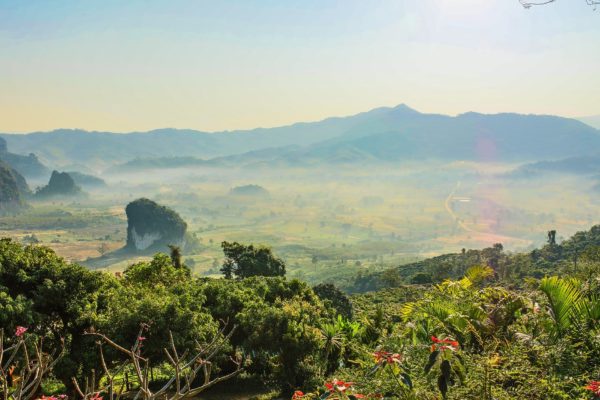 The production volume of our first WASTX Oil is sufficient to ensure that ¼ of the entire fleet of the Bresan freight forwarder is already climate-neutral.
Every month our small WASTX Oil in Hoyerswerda saves 90 % truck kilometres, more than 50 t carbon dioxide and several thousand Euro fuel costs.
outlook
We are currently producing the first series of WASTX Oil. It now has a processing capacity of 2,000 l per day in the current series. This means a saving of 143 t carbon dioxide per month per plant and 130 ha of afforested forest area.